The strength of your home or office security largely depends on the quality of your door locks. However, even the best locks can start to malfunction over time if they're not properly cleaned.
Dirt, dust, and other debris can build up on the lock over time and cause it to become clogged. This can lead to the lock becoming stuck, hard to open, or completely inoperable.
That's why it's important to clean your door locks on a frequent basis. Knowing how to clean a door lock properly is essential to keeping your security system functioning properly.
The process is actually very simple and only requires a few basic supplies. Keep reading for a step-by-step guide on cleaning your door locks like a pro.
What May Occur If a Lock is Dirty?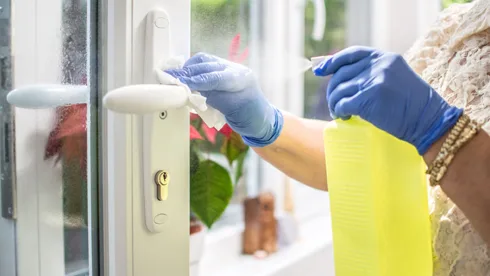 A lock is a vital part of your locking system, and it's important to keep it clean and in good condition. In the event that you neglect to clean your locking mechanism, you may encounter a number of problems. Some of the consequences of a dirty lock include:
1. Lock Jamming
One of the most common problems associated with a dirty lock cylinder is that it may jam. The dust and debris that builds up in the locking mechanism can cause it to become clogged, which will prevent it from functioning properly.
If your lock jams, you won't be able to unlock the door, which could leave you stranded inside or outside of your home.
2. Rusting
If a lock isn't cleaned and lubricated regularly, it may start to corrode and attract dirt. Rust can cause the lock to become brittle and weak, which could lead to it breaking or becoming inoperable.
3. Sticky Keys
The keys may become sticky if the lock cylinder is dirty. This will make it difficult to insert and remove the broken key from the lock. In some cases, the key may even become stuck in the lock.
4. Damage Overall Lock
Locks that are dirty and improperly lubricated can suffer extensive damage. Over time, the dirt and debris can wear down the moving parts of the lock, which will cause it to break or stop functioning altogether.
Once you have identified the consequences of a dirty lock, you should know how to maintain it properly. Thus, you will be able to avoid any of the above problems and keep your locking system in tip-top shape. 
Related: Some reasons why doors squeak when they are closed
Instructions on How to Clean a Door Lock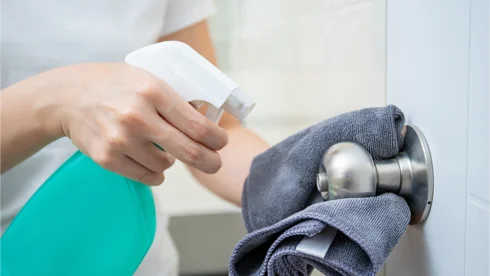 There is no way to overstate the importance of keeping your doorlock well-maintained on a consistent basis. A clogged lock can lead to a number of serious problems. Follow the simple steps below to deeply clean your lock mechanism and keep it functioning properly.
Step 01: Gather Your Supplies
Before you can start cleaning your door lock, you'll need to gather some basic supplies. You'll need a screwdriver, some WD-40, powdered graphite lubricant, and a rag or paper towels.
These supplies enable you to thoroughly cleanse your door lock mechanism and restore it to its original appearance and functionality. Before you begin the main work, gather your supplies and place them close to the work area for easy access.
Step 02: Remove the Lock from the Door
After you've gathered your supplies, the next step is to remove the door lock from the door. This is a very simple process that can be accomplished with a screwdriver.
Locate the two screws holding on the door jamb that holds the lock in place and remove them using your screwdriver.
Once the screws are removed, gently lift the lock from the door and set it aside. This will give you direct access to the lock and allow you to cleanse it more easily.
Step 03: Clean the Lock with WD-40
Now that the lock is removed from the door, it's time to start cleaning it. The first step is to spray WD-40 liberally on the lock. This will help dissolve any dirt or debris that has built up over time.
Be sure to use plenty of WD-40 spray cleaner and cover all of the surfaces of the lock. Also, make sure that the cleaning solution penetrates the keyhole. Let the WD-40 sit on the lock for a few minutes to allow it to work its magic.
Step 04: Wipe Down the Lock with a Rag
Once you have sprayed the WD-40 on the lock, you should wipe it down with a rag or paper towels. Be sure to use a rag and scrub all of the surfaces of the lock.
This will help remove any dirt or debris that was loosened by the WD-40. Upon wiping down the lock, it should be neat and free of obstructions.
Step 05: Apply Graphite to the Lock
It is recommended that you apply some dry graphite lubricant after you have cleaned the lock. This dry lube will help keep the doorlock functioning properly over time. Lubricating the lock will also help prevent it from becoming clogged again in the future.
The lubricant should be applied to the deadbolts and all of the moving parts of the lock. Make sure to apply a generous amount of lubricant and allow it to soak in. Doing so will keep the lock operating smoothly for a long time. Be careful not to apply excess lubricant.
Step 06: Replace the Lock on the Door
Once you have finished cleaning and lubricating the lock, put it back in place on the door. Reverse the process you used to remove it and reattach and tighten it using the screws you removed earlier. Once it is secure, give the doorlock a gentle tug to ensure that it is properly attached.
Step 07: Close the Door and Test the Lock
Now that the lock is clean and lubricated, it's time to test it out. Close the front door and try locking and unlocking it. The lock should function smoothly and without any problems.
By following these simple steps, you can keep your door lock neat and functioning properly for a long time. Keep in mind that it's important to clean the lock on a regular basis to prevent debris and dust particles from building up.
Benefits of Keeping Your Lock Clean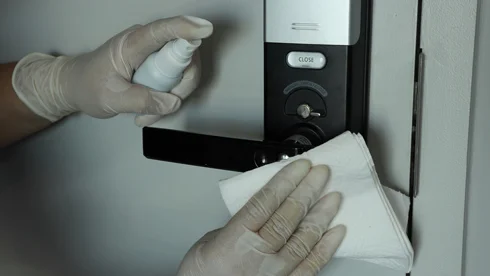 As we have seen how door locks can be cleaned, let's now explore why doing so is beneficial. There are several advantages to cleaning a lock, including:
1. Prevents Lock Malfunction
One of the main benefits of keeping your lock clean is that it prevents malfunctions. If dirt and dust build up in the lock, it can cause the locking mechanism to freeze or malfunction. By cleaning the lock regularly, you can help prevent these problems from occurring.
2. Keeps the Lock in Good Condition
Another benefit of keeping your lock clean is that it helps keep the lock in good condition. If dust and debris are allowed to build up, it can cause the metal parts to corrode over time. This can lead to a number of problems with the lock, including jamming and misalignment.
3. Helps Extend the Life of the Lock
By keeping your lock clean, you can help extend the life of the lock. This is because regular cleaning prevents dirt and dust from building up and causing damage to the mechanism.
4. Keeps the Lock functioning Properly
One of the main benefits of keeping your lock clean is that it keeps the lock functioning properly. As a result, you can rest assured that your door will be secure at all times.
5. Ensure Privacy and Safety
The main purpose of a door lock is to provide privacy and protection for your home. By keeping your lock clean and in good condition, you can ensure that it will continue to do its job properly.
Frequently Asked Questions:
There are a few common questions that people have about maintaining door locks. Let's take a look at some of the most common ones:
1. How Often Should I Clean My Door Lock?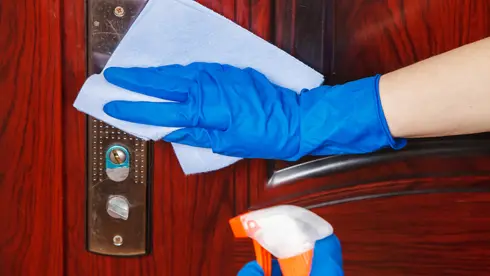 The cleaning frequency for locks will vary depending on the environment it is exposed to. You may need to clean your lock every three months if you live in a dusty or dirty area. Otherwise, maintaining your lock once or twice per year should suffice.
2. How Long Does a Door Lock Last?
The lifespan of a door lock is dependent upon the quality of the lock and how it is maintained. An average door lock may last approximately seven years. However, with proper care, it may last for decades.
3. When Should I Change My Door Lock?
You should change your door lock if it becomes worn down, rusty sign, or damaged. It's also a good idea to replace your locking mechanism periodically as a precautionary measure. You can typically expect to change your lock every five to seven years.
Conclusion
Hopefully, after reading this article, you have a better understanding of how to clean a door lock. Now you can keep your home's safety and privacy in the best possible condition.
By following the simple steps outlined in this article, you can keep your lock functioning properly and prevent any major problems from occurring. Keep in mind that it's important to clean your lock on a periodic basis to ensure optimal performance.
How to Clean a Door Lock | Complete 7 Steps Guide